Prepaid Elektrisiteit
Herlaai elektrisiteit vir Eskom, Ekurhuleni, Johannesburg, Tshwane en ander munisipaliteite MOEITELOOS - 24/7
Koop vanuit die gerief en veiligheid van jou eie huis of kantoor
Gesels met ons AANLYN kliënte-ondersteuningsdiensspan indien jy enige vrae het.
Is jy al onverwags sonder elektrisiteit gevang en moes wag omdat die munisipaliteit van lyn af was of totdat die winkel oopmaak? Verseker dat dit nie weer met jou gebeur nie met ons Nood Elektrisiteit™ opsie!

Lys van Elektrisiteitsvoorsieners:
Soek jou Munisipaliteit in die kieslys, om die aanlyn status, tariewe en ander relevante inligting te sien.
Om prepaid elektrisiteit te koop was nog nooit so maklik nie!
Sluit aan en skep Prepaid24 as begunsdigde in jou eie bankrekening. Maak daarna betaling vanuit jou eie bankrekening vir die bedrag wat jy wil herlaai na Prepaid24 se rekening. Gebruik die korrekte verwysingsnommer: Letter 'E' en jou selfoon nommer, bv. E0820011001

Sodra ons die betaling ontvang, sal jy die bewys per SMS en epos ontvang.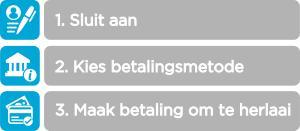 Indien jy kies om net een meter nou te herlaai, en wil dalk later meer produkte of nommers byvoeg, sal ons jou met graagte daarmee help sodra jou eerste transaksie suksesvol voltooi is, en jy gereed is om daarmee voort te gaan.
Veilig en eenvoudig.
Dit neem 2 minute om eenmalig aan te sluit sodat jy enige tyd of plek vir verskeie meters met een betaling aankope kan maak!
Herlaai tot en met 50 meters. Die herlaaibewyse vir die meters sal per epos na jou gestuur word of jy kan dit self binne jou veilige MyPP24Profiel sien en aflaai.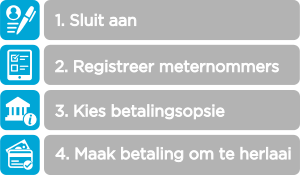 Prepaid24 bied 'n verskeidenheid van betalingsmetodes:
EFT paaiemente
Al wat jy hoef te doen is om Prepaid24 as 'n nuwe begunstigde te skep, deur gebruik te maak van ons bankbesonderhede, by jou voorkeur bank. Gebruik dan die unieke verwysingsnommer wat na elke mandjie transaksie gegenereer word.
SmartFund paaiemente
Die SmartFund is 'n universele fasiliteit wat soos 'n elektroniese beursie werk. Hierdie funksie stel jou in staat om die krediet te gebruik vir jou produk aankope sonder dat dit nodig is om telkens EFT betalings te maak.Jou SmartFund kan deur middel van EFT- of Kredietkaart betalings aangevul word.
Kredietkaart betalings
Die Kredietkaart fasiliteit is slegs beskikbaar om jou SmartFund aan te vul vanuit jou MyPP24Profiel.